THE MOST HOLY TRINITY (YEAR C)
YEAR OF MERCY

The extraordinary Jubilee Year of Mercy
began this week with Pope Francis opening the Holy Door at St Peter's in Rome on the Feast of the Immaculate Conception.
Bishop O'Regan opens a Holy Door in
St Mary's Cathedral, Sale, today.
Here at St. Michael's we have nominated a door as our own holy door, it is designated with the Year of Mercy emblem. A cross has been setup as a prayer focus. You can read about the logo near our reconciliation room which is a particular place to encounter God's mercy. We are invited to experience God's mercy and become "merciful like the Father" (Luke 6:36)



---

PRAYER TO ST MICHAEL

Saint Michael, the Archangel,
defend us in the hour of battle.
Be our safeguard against the wickedness and snares of the devil.
May God restrain him,
we humbly pray; and do thou,
O Prince of the heavenly host,
by the power of God cast into hell Satan and all
the other evil spirits who roam through the world seeking the ruin of souls.
Amen.
Most Sacred Heart of Jesus -
Have mercy on us x 3

---

FRIENDSHIP GROUP

Lunch outing to Pine Grove Hotel on 26 May. Cars leaving St. Michael's at 12.00pm. For further information please Contact: Michael on 8786 9983 or John on 9702 1928

---

TRINITY FAMILIES COLLECTION

$898.80 was raised last weekend. Thankyou!

---

CELEBRATION

For Fr. Jeff's 10th Anniversary of Ordination on Sunday 29th May at 11.30am. If anyone would like to bring finger food please put your name on the sheet in the foyer.

---

JUBILEE YEAR OF MERCY

A day of celebration at St. Agatha's Parish, Cranbourne on Sat 4 June. See notice board for details.

---

LEGION OF MARY

Recruitment drive this weekend. Representatives will be at all masses to speak and will be available to answer any questions regarding this wonderful ministry.
INFANT VIABILITY ACT

Dr Rachel Carling-Jenkins, State Member for Western Metropolitan Region, has introduced the Infant Viability Bill. It is scheduled to be debated in Parliament on the 25th May. See noticeboard for details. There will be a Candlelight Vigil On this Tues 24 May after mass in support of this.

---

PLEASE KEEP THIS DATE FREE

29th September. More details to follow!!!

---

YARRA THEOLOGICAL UNION

A Catholic College of the University of Divinity is taking enrolments for theological study in second semester. Undergraduate and postgraduate courses are available. Enrolment appointments are from Monday 6th June 2016 until Thursday 24th June 2016. Phone: 9890 3771 or email: admin@ytu.edu.au for an appointment. Other details are available online at www.ytu.edu.au.

---

THE JOURNEY CATHOLIC RADIO PROGRAM – AIRS 29 MAY 2016

This week's show starts with Fr Ken Café OFM reflecting on the Gospel of Luke. We hear from Sr Hilda Scott OSB in Wisdom from the Abbey, Pete Gilmore reminds us of the importance of that "Secret Prayer Place" where we can encounter God. We also hear from Sam Clear in Walking the Walk and The Pirolas in SMARTLoving give us great tips for our relationships. Tune into LIFE 103.9 FM Sun 10am or go to www.jcr.org.au or www.itunes.jcr.org.au where you can listen anytime and subscribe to weekly shows by email.

---

SOCIAL JUSTICE – DOMESTIC VIOLENCE

The City of Casey had 3,959 reported family incidents in 2015; the highest in Victoria. Casey's higher level is explained partly by its larger population, although on a per 100,000 population basis Casey's reported family incidents of 1,357 was still above the Victorian average of 1,250. More positively, the increase in Casey's reported family incidents over the past 4 years of 34% was much lower that the increase in Victoria overall of 70%. Cardinia had 1,462 reported family incidents in 2015, equivalent to 1,576 per 100,000 population, higher than both Casey and the Victorian average. The increase over the past 4 years was also a much higher 94%, partly due to population growth.

---

RETIREMENT OF FR. HENGEL

On Sun 12 June at 12 noon in McCartan Hall, Marist Sion College, Burke Street, Warragul. COST: Adults: $25 per head, Pensioners: $20, Children: 5-12 $15 Contact: Susan Collis: (M) 0407231292 or Joan Robertson: 56231642.

---

PRAYERS

Fr. Joe from Cranbourne has asked that we pray for the safe return of Fr. John Adeyi, Vicar General from Nigeria who has been kidnapped by two armed men.
WEEKEND MASS TIMES

SATURDAY: 6.00 p.m.
SUNDAY: 9.00 a.m. - 10.30 a.m. - 6.00 p.m.

---

WEEKDAY MASSES

Tuesday 7.00 p.m.
Wednesday, Thursday, Friday 9.30 a.m.

---

BAPTISM

Will be 2nd, 3rd, and 5th Sundays.

---

RECONCILIATION

Saturday 9.30am — 10.00am & 5.30pm—5.50 pm

---

MARRIAGES

By arrangement with Fr. Peter or Fr. Jeff. At least 6 months notice is required.
ONLINE ROSTER

You can download the roster by clicking on the appropriate links below;

Mass Times & Directions
Weekend Masses
Saturday: 6:00 pm
Sunday: 9.00 a.m. - 10.30 a.m. - 6.00 p.m.
Weekend Masses
Tuesday 7.00 p.m.
Wednesday, Thursday, Friday 9.30 a.m.
Baptism
They will be 2nd, 3rd, and 5th Sundays.
Marriages
By arrangement with Fr. Peter or Fr. Jeff. At least 6 months notice is required.
Reconciliation
Saturday
9.30am-10.00am
5.30pm-5.50pm.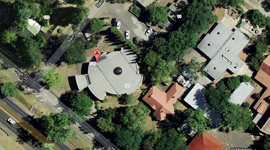 View larger map
119 High Street,
Berwick, 3806
P: 9707 1355
F: 9707 5891
Mon-Fri 9:00am - 3:00pm
Exposition
Wednesday
10 am-11 am